No, I am not referring to any of my lectures. I am referring to my son's current narrative strategies, which is to take several things he has learned about and combine them into a new, even more exciting story.
As I have previously mentioned, The Blob has already entered the family parlance, although now it refers simply to tasty jello. Somehow, however, the boy did manage to also process the
correct
definition of "The Blob," i.e. scary monster that creeps (and leaps and gliiides... OK, yes, please stop me now). I swear, he hasn't seen the movie. (Yet.)
This was apparently combined this evening
at dinnertime
while Angela and Xan were riding home together on the bicycle with the concept of "robots," apparently acquired through a friend at school. (I was not a first-hand witness to this, by the way, because it was "back to school night" at the preschool and I was the one on hand; at this meeting, the parents of the aforementioned child wanted to know is "camping" was a topic at school, because their son suddenly wants to go
camping. It's hilarious how quickly these concepts are picked up.) Add the ever-constant Thomas the Tank Engine, who appears in all narratives these days. (Even when they involve pirates. Don't ask).
This results in the following narrative, explained matter-of-factly by Xan to Angela tonight: "The Blob and the robot were chasing after Thomas very, very fast. Thomas was scared -- but then he was faster and got away. From the Blob. And the robot. Who was big."
Personally, I think this would make a fantastic movie myself.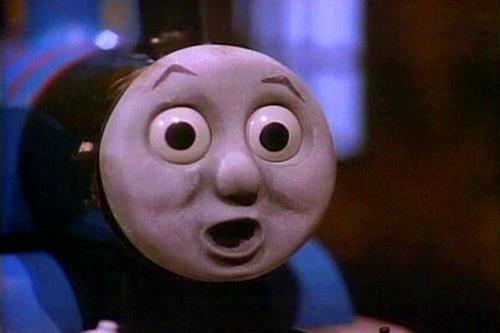 Apparently, Thomas doesn't share my opinion.