She shoots -- she scores!!!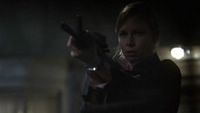 I wrote this to my friend Cindy after Monday night's episode of
24
, which (along with
Lost
) is one of the only TV shows that hasn't fallen to the wayside since Xan's arrival. Mind you, I had never watched the show before this season, only watching because I was obsessed with Iranian actress and
House of Sand and Fog
Oscar nominee Shohreh Aghdashloo. (Her death on the show, by the way, made me very upset.) I had no previous connection with these characters, although I liked the fact that mousy, pouty computer tech goddess was played by Mary-Lynn Rajskub, who I found was wonderful as Adam Sandler's petulant sister in
Punch-Drunk Love
.
Anyway, what I wrote to Cindy:
I think I'm a reasonable feminist of sorts. And I'm pretty convinced that (a) there is no reason automatic weapons should be owned by regular Americans and (b) such weapons should not be glorified in anyway.
With that said, Chloe firing off that gun at the end of the episode? Oh my God. I love her
so
much. Ange and I were cheering. Totally hot.
(Cindy wrote back: "As Chloe would say, 'I know.'")